Finding the right motorcycle is a bit like finding the right woman I guess. Sometimes it's love at first sight, more often though it's a slow learning process, where you gradually exclude those that do not suit you or match your expectations.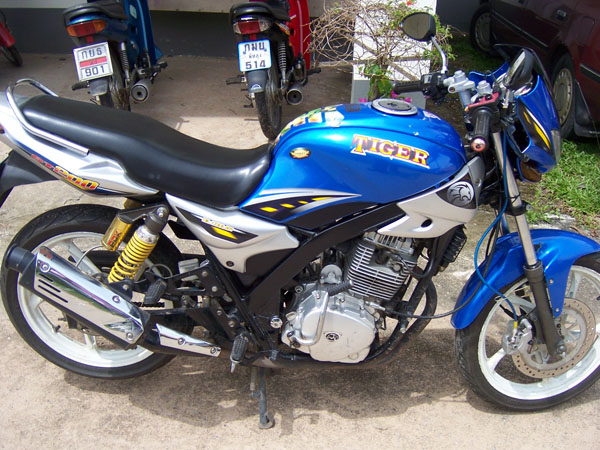 Tiger ST200
It's been like that for me when I came to Thailand. My first bike here was a Thai
Tiger ST200
. Once I sorted some initial reliability issues, it was a great and fun bike for the city and small to medium trips. The only thing that was lacking was the power. My next bike then was a
Suzuki Bandit 400.
I loved the flowing lines and there was plenty of power, but still, I wasn't satisfied... An inline 4 has a power output that doesn't really mirror my riding habits. I prefer to ride at a slow to medium pace, but the Bandit liked it fast and furious. Eventually, we separated amicably.
My next bike was a
Yamaha SR400
...and it was love at first sight/ride. I love the classic design, the thumping sound and the simplicity of it all. This love prompted me to start this blog and later on open the
Omega Racer shop
. But that's stuff for another story.
Suzuki Bandit 400
I'm not saying I don't love her anymore, but I have to admit that I've been thinking a lot about other bikes, too. The problem was, I couldn't find Mrs Right. If I would live in Europe, I would definitely get a BMW R90 or R100, but Thailand is a different story.
To help me with the conundrum, I made a list of things I wanted and compared it with what is available in Thailand right now.
My baby
First off, the
design/type
. I like my bikes naked, simple and with classic lines.
Sometimes I'm tempted by the design of modern bikes. The
MV Agusta F3
or the
Rivale
are two fantastic looking bikes, but sadly, also fantastically expensive. No way I can afford them and besides, they don't fulfill my other requirements.
The ideal type of bike for me is a street tracker or touring bike.
Next is
practicality
. For me, a bike has to be practical, meaning it must allow for a passenger to sit comfortably on longer rides, be able to carry luggage and allow me to ride in a comfortable upright position. It must be practical on the mechanical side, too, giving me the chance to fix something by myself, or at the very least be simple enough, so that a roadside mechanic won't f**k it up completely. Finding a good mechanic (at least for bigger bikes) in Thailand is a bit like finding an honest politician.
BMW R90. Reliability on two wheels
Reliability.
Of course, generally new bikes tend to be more reliable than older ones, but there are some personal guidelines I like to follow. The old Honda SuperFour, so common in Thailand, are in my opinion rolling minefields. How many of those had their carbs cleaned and synchronized recently? How many Thai mechanics are able to adjust the valves on an inline four? Naaa, I'll stick with one or 2 cylinders. I want a bomb proof machine like the W650, the indestructibility of a Honda or any BMW.
The engine.
Like I mentioned before, one or 2 cylinders suit my riding style best. I love their sound and character. Simple tech, air-cooled singles, V twins, boxer or inline twins are my bread and butter.
One of the most beautiful engines ever made
Price.
Obviously, staying in the budget is important. I have a pretty clear idea about how much I want and can spend for my next bike. Since I don't really like modern bikes, with 150k to 200k Baht there are some good second hand bikes out there. If the right new bike would come along, I could think about raising the budget. For the upcoming
Ducati Scrambler
or the
Kawasaki W800
I could make such an exemption, for example....even thinking about....gulp....financing. There, I said it.
Kawasaki ER6n 2009
Finally, the availability.
Living in Thailand has many advantages, but when it comes to bikes it's definitely not like in the West. I have to admit that in the past few years many new models entered the Thai market, thanks to the expansion program in South East Asia of big motorcycle manufacturers like Kawasaki, Honda, Ducati, Triumph and even BMW. These manufacturers produce some bike models in Thailand which are exempt from stratospheric import taxes, which afflict many other models. Just take the very nice BMW R9T: it costs 11,600 Pounds in the UK...roughly 640k Baht. The same bike in Thailand would set you back 1.1 million Baht!! Almost double!!
So, what's available?
As mentioned above, there are some good (new) bikes made in Thailand: just to mention a few...Kawasaki has the ER6n/f and the Versys; Honda the CB500 and now CB650; Triumph with the Bonneville, Scrambler and T100; BMW with the F800R and Ducati with the Monster 695.
The second hand market is currently profiting from the very high sales of ER6n and Versys since 2009, which were the first big bikes to be made and sold in Thailand. 2009 models now go for as little as 150k, while 2011 models with low mileage can go up to 180-190k Baht.
Honda CB500f
It's not too difficult to find 2013 CB500 for 180k (cost new about 200k for the naked version) and 2013 695 Monsters for 350k (new: about 400k).
Of course, the evergreens on the second hand market are still the Yamaha SR400 and the Honda CB400 SuperFour. They're much cheaper (in the 50-60k range), but most of them are not legally registered.
Sure, there are other big bikes available, but for one or the other reason, they're not interesting for me.
Now, if I take all these conditions and put them to cook in a big pot, the result will boil down to a small selection.
1) Yamaha XS650 (difficult to find, especially with legal papers)
2) Kawasaki W650 (available, but rarely legal)
3) Kawasaki ER6n 2009-2011 model (good bike, good price, not classic)
4) Honda CB500 (cheap, but otherwise quite a mediocre offering, not classic)
As you can see, there's not much choice here for someone who doesn't want to ride a 'transformer plastic bucket' bike.
Kawasaki W650
Maybe it's really like it is with women. The right one will come along when you stop looking and you least expect it, kicking you off your feet and taking you up to the seventh heaven of riding pleasure.
I'll keep you posted. ;-)